St Augustine Alligator Farm on Anastasia Island: a Unique Florida Zoo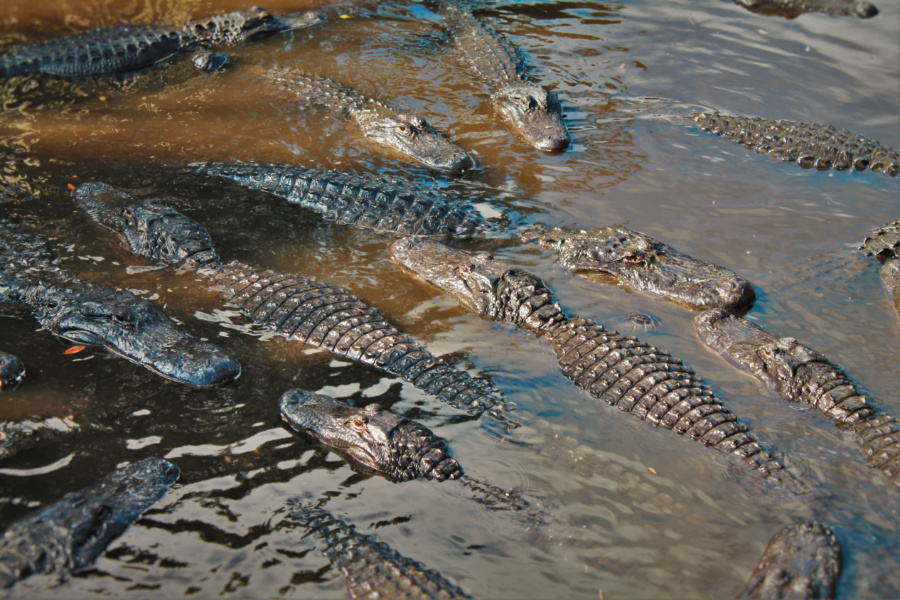 The St Augustine Alligator Farm has been a Florida staple since 1893. With all types of crocodilians, birds and tropical creatures it's a fascinating place to see. Visit in spring for the amazing bird rookery nesting season.
The St. Augustine Alligator Farm Zoological Park is one of Florida's oldest continuously running attractions, having opened on May 20, 1893. It now serves as a cutting-edge zoo, educating the public and the scientific community through shows, exhibits, significant research, and international conservation initiatives, including participating in the SPP: Species Survival Plan.
There are lots of questions visitors have about the Alligator Farm: "Is it just alligators?" or "Is it really a farm?" No and no. It's much more than gators and it's more of a zoo or open-air herpetarium than a farm. Plan a visit and enjoy the animals, the history and the beautiful St Augustine neighborhood of Anastasia Island.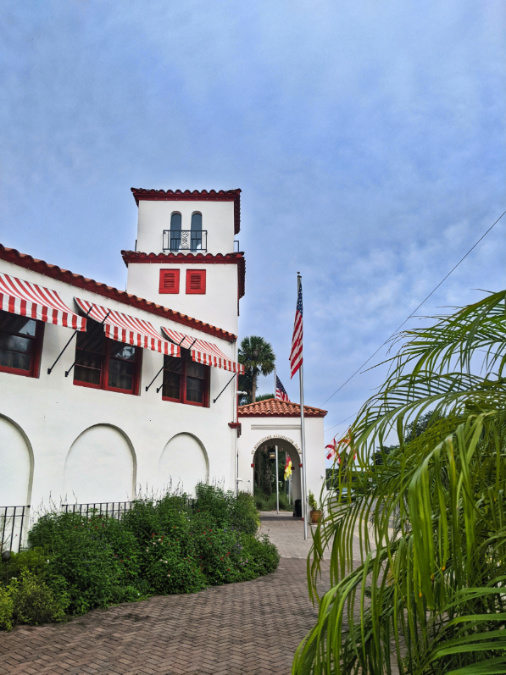 What to See at the Alligator Farm
St. Augustine Alligator Farm Zoological Park has 24 species of crocodilians and also a variety of other reptiles, mammals, and birds, as well as exhibits, animal performances, and educational demonstrations. The Alligator Farm Zoological Park features different varieties of animal species, including native alligators. Exhibits include Komodo dragons, lemurs, toucans, and a sloth exhibit.
The park is the only location on earth where visitors can see all 24 species of crocodilians together. Every day, the Alligator Farm hosts a variety of wildlife exhibits and displays for loads of family entertainment. Aerial adventure courses and two exciting zip lines are available on the grounds. Additionally, Crocodile Crossing's Python Challenge offers a 40-foot controlled free fall experience for those who dare (not scary, actually).
Check out this detailed Alligator Farm review!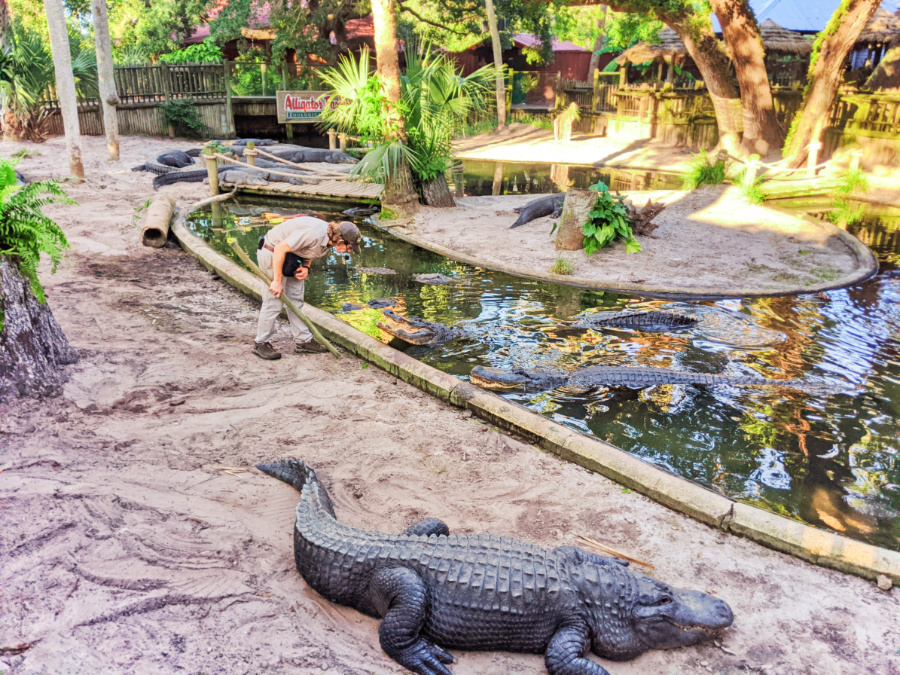 St Augustine Alligator Farm Highlight: the Lagoon Boardwalk
Really, the most incredible aspect of the St Augustine Alligator Farm is the lagoon boardwalk. Here you'll walk above hundreds of alligators, small, medium and large, as they swim and lounge. Depending on their collective mood, the gator growls may start and get everyone riled up, or it'll be one big snooze fest as the alligators sleep on each other. It's incredible!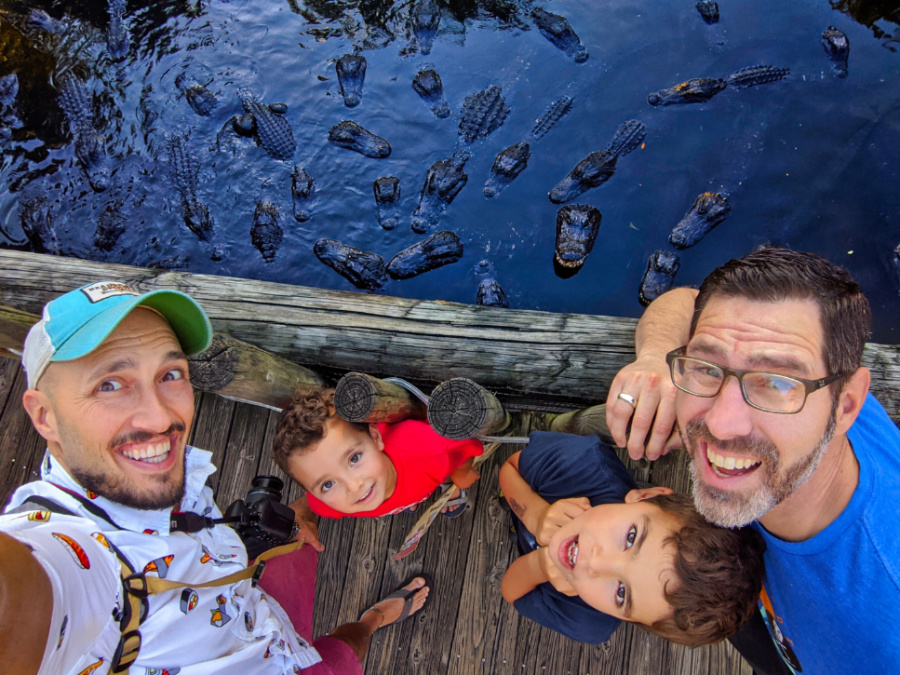 Visiting for Rookery Season: a Florida Birdwatcher's Dream Come True
March through early June is remarkable to visit the St Augustine Alligator Farm, as this is when the natural rookery trees come to life! Roseate spoonbills, egrets of all sorts and wood storks all come to roost by the hundreds. Baby birds are born and raised overhead and at eye level at the north end of the lagoon. It smells bad during this time, but the experience is unmatched.
Also, during rookery season there is an additional ticket available for photographers looking to capture images after hours. Really, it's one of the most incredible Florida wildlife experiences.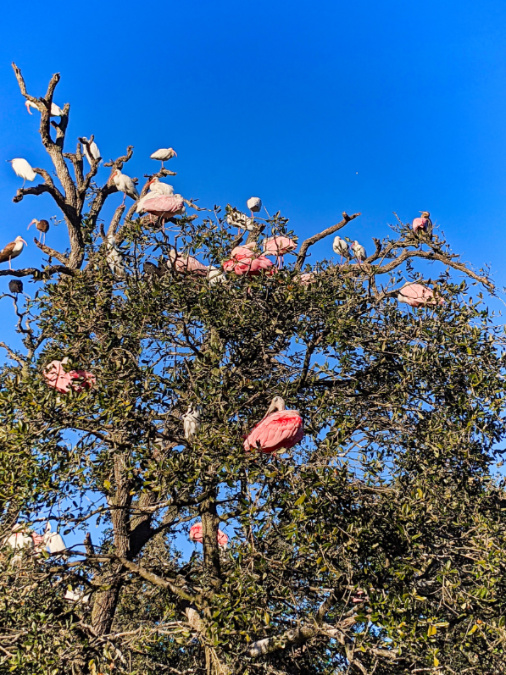 Where is the St Augustine Alligator Farm
On Anastasia Boulevard, next to Hamilton Upchurch Park (the skate park), is where you'll find the St. Augustine Alligator Farm. It's about five minutes from downtown St Augustine after you cross the Bridge of Lions. The St Augustine Lighthouse is about two minutes away and Anastasia State Park is another five minutes.
If you're staying at the Local St Augustine Hotel or the VOCO Hotel (book it here), it's about three minutes away. Really, it's very easy to get to the Alligator Farm, and if you don't have your own vehicle, you can hop of the Old Town Trolley Beach Bus, which has a stop here.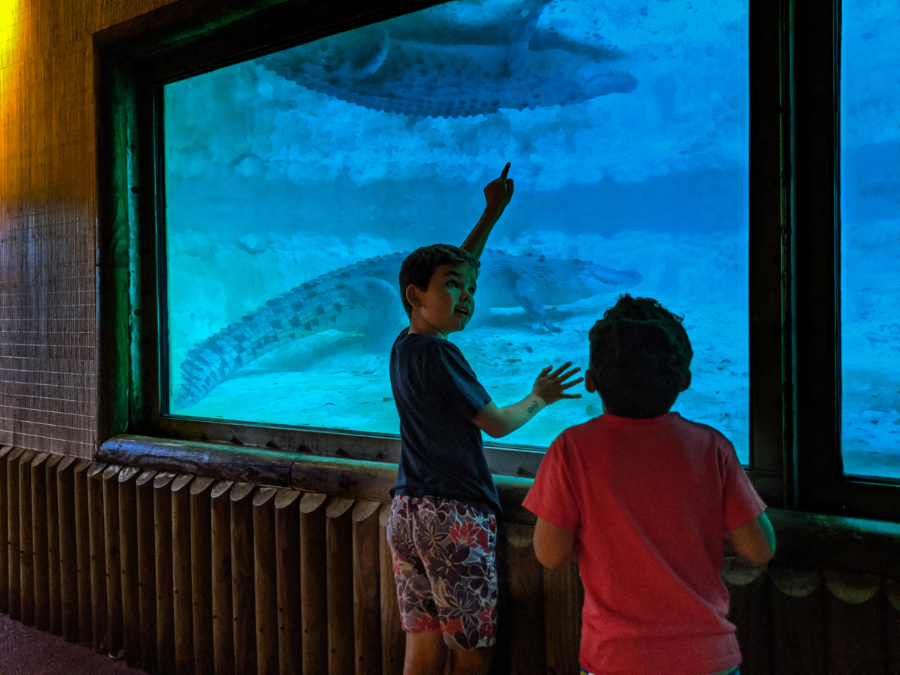 Tickets for the Alligator Farm
You can purchase tickets online via their website ahead of time. You can also plan your party, event, and field trips here. While inside, wearing of face mask is suggested (even still at the end of 2022), but most of the tours are outdoors.
Cost:
$34 USD for visitors 12 years and older
$19 USD for kids 3-11 years old.
guided tours and special experiences are additional
Educational and Special Events
There are plenty of educational programs available for kids of all ages at the St. Augustine Alligator Farm Zoological Park. Give your students the chance to tour the natural world firsthand by planning an unforgettable trip outside of the classroom for students in pre-kindergarten through high school. The Alligator Farm offers instructional materials for parents too, if requested.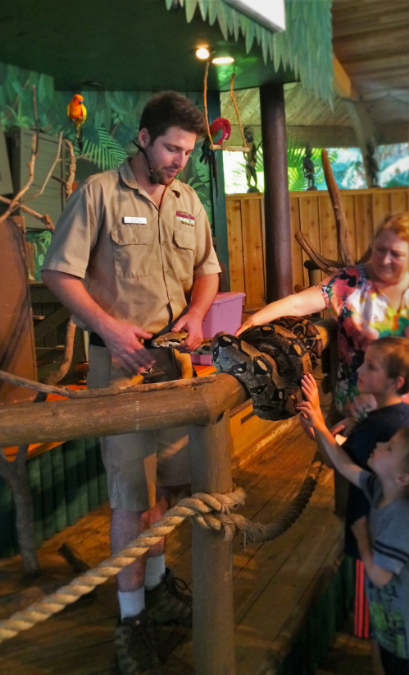 St Augustine Alligator Farm Hours of Operation
The Alligator Farm is open 9:00 am to 5:00 pm most of the year, but until 6:00 p.m. every day Memorial Day through Labor Day, thanks to the extended summer hours. They also have an online gift shop which you can visit anytime for awesome souvenirs.
So, should you plan to visit the St Augustine Alligator Farm? If you like zoos or just reptiles in general, yes. It's a very unique place to explore, especially with kids. We have had an annual pass and purchased tickets when we didn't have an annual pass, so clearly our return trips prove that we think it's awesome and a good overall value.