St Augustine, FL is both full of history and the best beaches in Florida. From wildlife viewing to things to do at night, this is the guide to everything you need to know about Saint Augustine, the oldest city in the USA.
Being a St Augustine local is such a treat. The oldest city in the United States, Saint Augustine has endless things to do. With unique tours, activities, pristine beaches and wonderful things to eat, you'll love visiting St Augustine. These are our top picks, the best things to do in downtown Saint Augustine, and should keep you busy for a few days in the Ancient City.
We've broken down the best things to do in Saint Augustine by area, meaning downtown, Saint Augustine Beach, Butler Beach and then north of the city and into Ponte Vedra. Enjoy our recommendations, and know that if you want to do everything we talk about here, it's going to take you at least four days. Saint Augustine is our favorite city in the USA and if anything we note here seems iffy, send us a note and we'll help you figure out your itinerary just a bit better.
Don't miss our restaurant recommendations for St Augustine either. You'll see that there are a few things we mention over and over, particularly Menorcan cuisine. It's amazing! Some of the best stuff to do and eat in St Augustine comes to us from the area being a melting pot of cultures. Enjoy it!
Listen to our podcast episode all about Downtown St Augustine!
Best things to do in Downtown St Augustine
You'll find the downtown area and waterfront of Saint Augustine to be fun and beautiful. It's easy to explore on foot and there are plenty of places to just have a sit and people watch. There's no shortage of great food or wonderful coffee shops in St Augustine either. It would be wrong to visit St Augustine without playing tourist and seeing its most famous and unique sights. And even if you're not a big tour person, we have some great suggestions for unusual tours everyone will love. Search for St Augustine tours here!
Want somebody else to plan it all and guide you through the city? Check out this complete 2 Day Guided St Augustine Tour!
Explore the Castillo de San Marcos
Located on the waterfront, the Castillo de San Marcos is probably the biggest attraction when you visit St Augustine. The Castillo (fort) was built in 1672 and is in really great shape. It's weathered battles, hurricanes and visitors for going on 400 years (the original structure).
A good portion of the Castillo de San Marcos is wheelchair accessible and all of it is fun for kids. The fort is directly on the water, so the views are incredible, and then across the street is the Spanish Colonial Quarter. This is a great place to start your day and is at the top of our list for the best things to do in Saint Augustine.
If you're visiting St Augustine when the Castillo de San Marcos is closed (Mon/Tues or after hours) you can still walk around the entire fort along the moat wall. There are displays and it's still a very unique place to visit and explore just on the outside.
Allot 1.5 hours for the Castillo de San Marcos. If there is a cannon demonstration, you may want to spend more time.
Cost: $0 w/ National Parks Pass (terms apply) OR $15 per person 16+ (kids under 16 are free)
Hours of Operation: 9:00 – 5:00 pm – check site to confirm hours of operation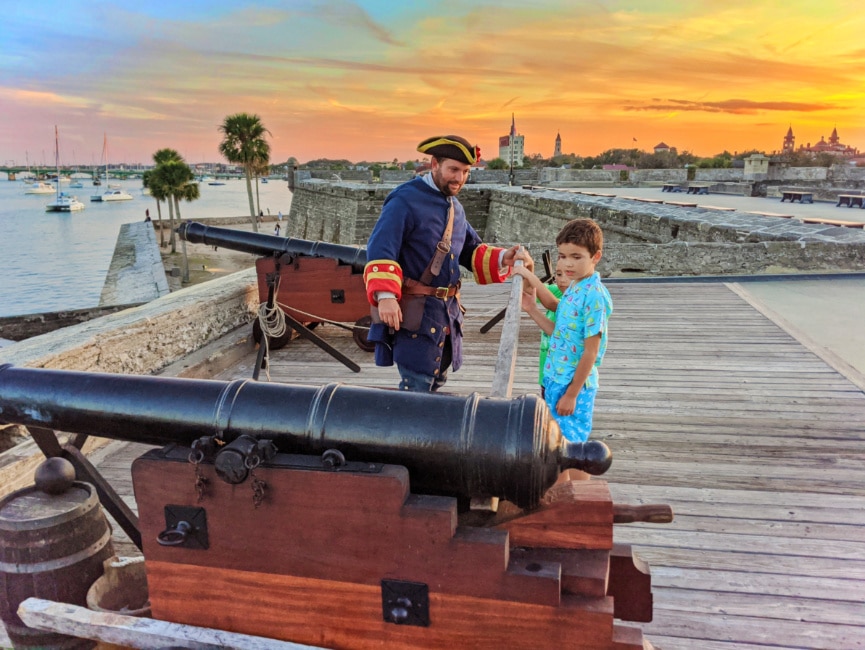 Visit the Pirate and Treasure Museum
What an awesome treasure of a museum! We visited on our first trip to the city and didn't make it through because the kids were scared. On our most recent though, we discovered that the Pirate and Treasure Museum is one of the best things to do in Saint Augustine. Between the original Jolly Roger and actual pirate treasure, and then some awesome film memorabilia, we thoroughly enjoyed the Pirate and Treasure Museum.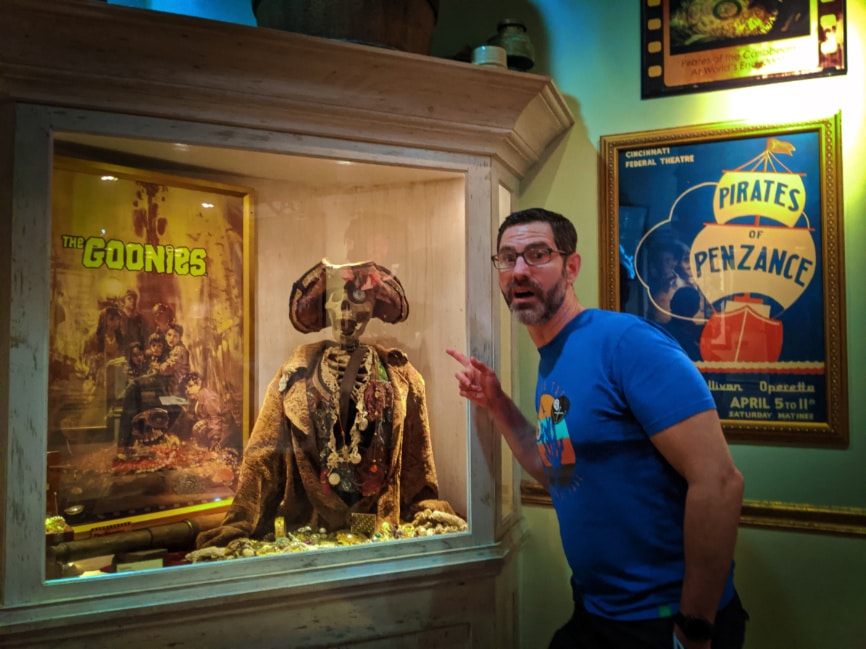 Living history at the Unique Colonial Spanish Quarter
If you've been following our blog, you know that we're suckers for history, and the Colonial Quarter is great for experiencing it, and particularly for seeing living history. If you're going through the actual Colonial Quarter Museum, it's perfect for learning and having weird fun. When we say weird fun, what we mean is that it's really entertaining to see town-life of days gone by happening before you. It's not as comprehensive as Williamsburg and the Historic Triangle, but it's still one of the best things to do in St Augustine.
We got to see how a ship was built, experience a working blacksmith shop and learn about loading and firing muskets. It is pretty cool. Beyond the actual museum area is the live, functioning town that's also part of the tour. It's loaded with shops, museums, breweries and distilleries (even wine tasting) and galleries. Allot at least 1 hour for the Museum and another hour at least for wandering and relaxing.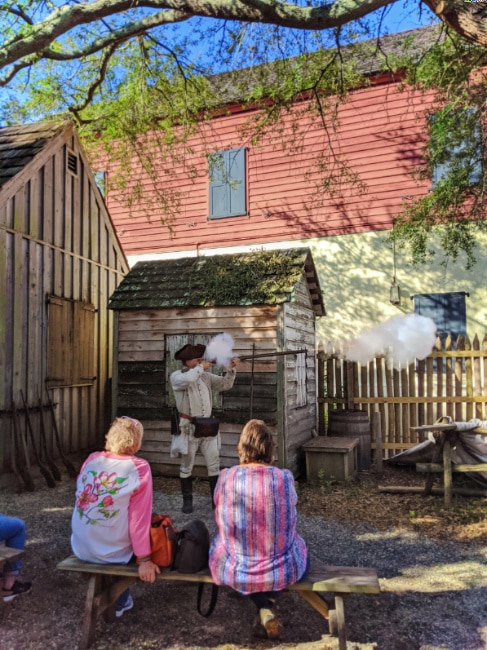 St Augustine at Night: ghost tours
If it's not your thing, that's okay, but walking the streets of St Augustine at night is another cool way to enjoy the city. Whether you want to visit the cemeteries and alleys on your own or join an organize, guided St Augustine ghost tour!
Ghost tours are a combination of storytelling and spectral photography. I know, it sounds curious and like a giggle fest, but it's actually really fun. Costumed tour guide lead visitors by lantern light. It's great! Book our favorite tour here! The other popular ghost tour is Ghosts and Gravestones which gets rave reviews.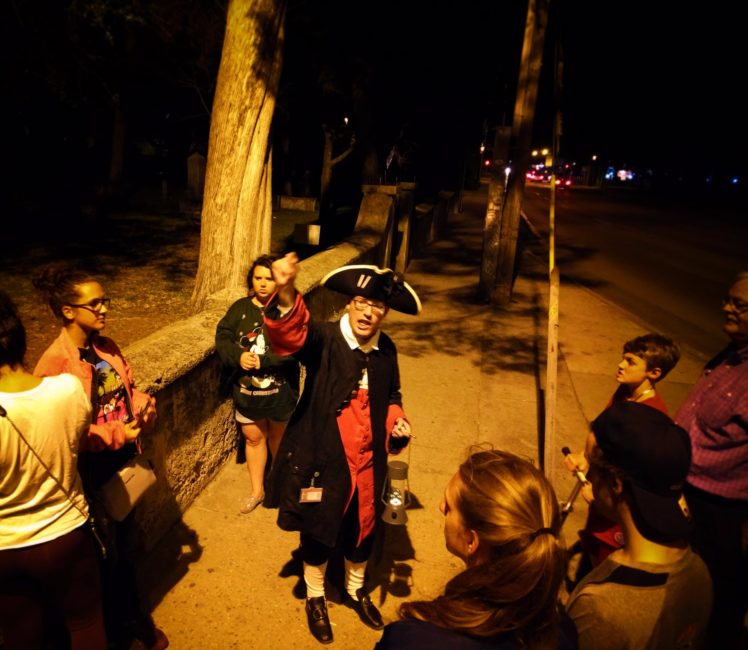 Stroll and shop along St George Street
Visiting St George street is one of the best things to do in St Augustine, hands down. St George street in the historic district of Saint Augustine is some of the best people watching in Florida. It's got a great vibe and lots of fun and interesting shops. There are many restaurants for both formal dining and walk-up snacks.
And where else will you just see pirates walking the streets? We've got some great recommendations for hotels in St Augustine that are just off St George Street!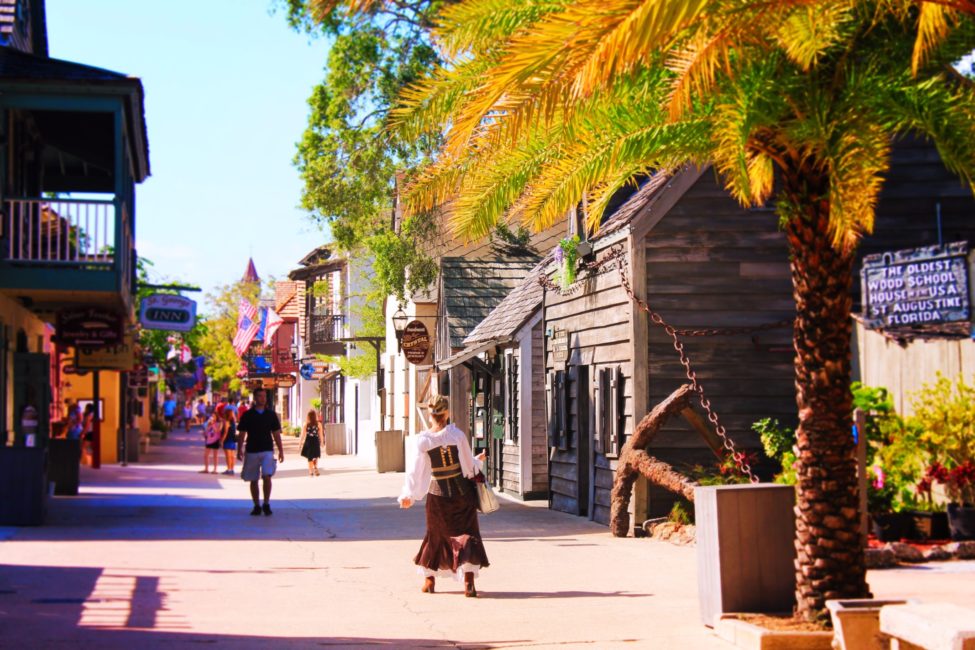 Tour Flagler College: so ornate and amazing
Originally the Hotel Ponce de Leon, Flagler College is an immaculately preserved slice of the late 19th century. Built in 1888 it's a gold-leafed, Tiffany windowed vintage experience. Since Flagler College is an active campus, you can only explore with a tour guide.
The Flagler's Legacy tour lasts about an hour and is fascinating. I'd even call it one of the best things to do in Saint Augustine with kids!
For tour information, check the actual Flager College tour website, as the tour schedule varies based on term schedule and demand.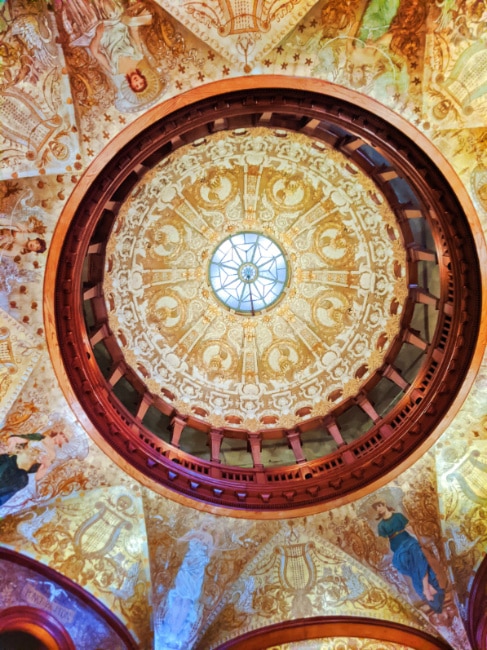 The Lightner Museum
If you enjoyed the Flagler College tour or are just an art lover, you'll really enjoy visiting the Lightner Museum across the street. Originally the Alcazar Hotel, this museum is a wonderful place to both appreciate art and get a glimpse into St Augustine's history.
Tour the Russian baths, eat lunch in the Alcazar Café (aka the swimming pool) and even walk the corridors the servants of the Alcazar would use. This is a great thing to do on a hot day or to get out of the rain.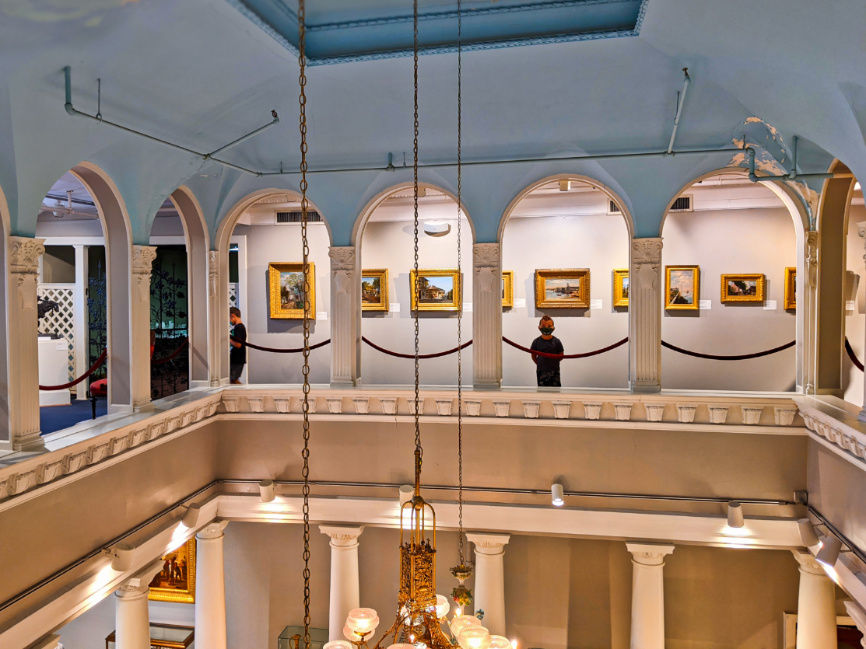 St Augustine Distillery Tour
We've visited many distilleries around the USA and Canada, and the St Augustine Distillery is our favorite. Who doesn't love to learn or at least pretend to learn about distilling while sampling great beverages? We do! And the Saint Augustine Distillery is THE place for it!
A kid-friendly distillery tour, you'll see their boutique fermenting and distilling operations, as well as get some tips on making awesome cocktails at home. When you're done, head upstairs to the Ice Plant for another cocktail and some unique Saint Augustine dining.
Fun Fact: during the COVID-19 pandemic the St Augustine Distillery started producing hand sanitizer for the city and it's been readily available ever since.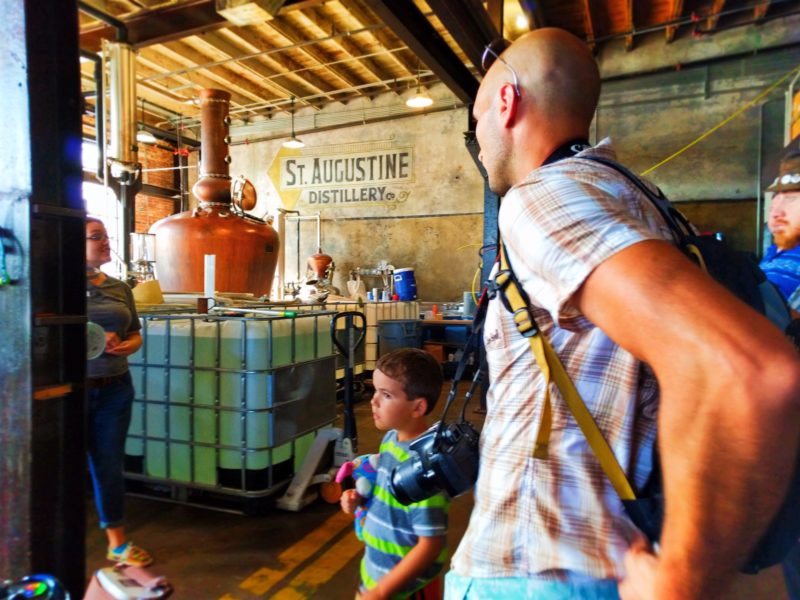 Holidaytime in St Augustine: Nights of Lights
Yes, this gets its own section. Nights of Lights is the holiday festival in Saint Augustine that turns the coolest downtown area on the east coast into the most glowing! Christmas in St Augustine is surprisingly festive, despite there being so many palm trees. Experiencing St Augustine at Christmas is one of the best things to do in Florida, and for sure one of the most festive.
Saint Augustine Tree Lighting and Celebration
Each year in November, St Augustine does a tree lighting that includes more than the town Christmas tree. In addition to having a beautiful tree in the Plaza de la Constitución, the giant oak trees, palm trees and many of the building facades are lit with Christmas lights and decorated with everything you can imagine. Check the Florida's Historic Coast website for the dates for the next big St Augustine Nights of Lights celebration and related events.
Annual Dates for Nights of Lights festival: last week of November through beginning of February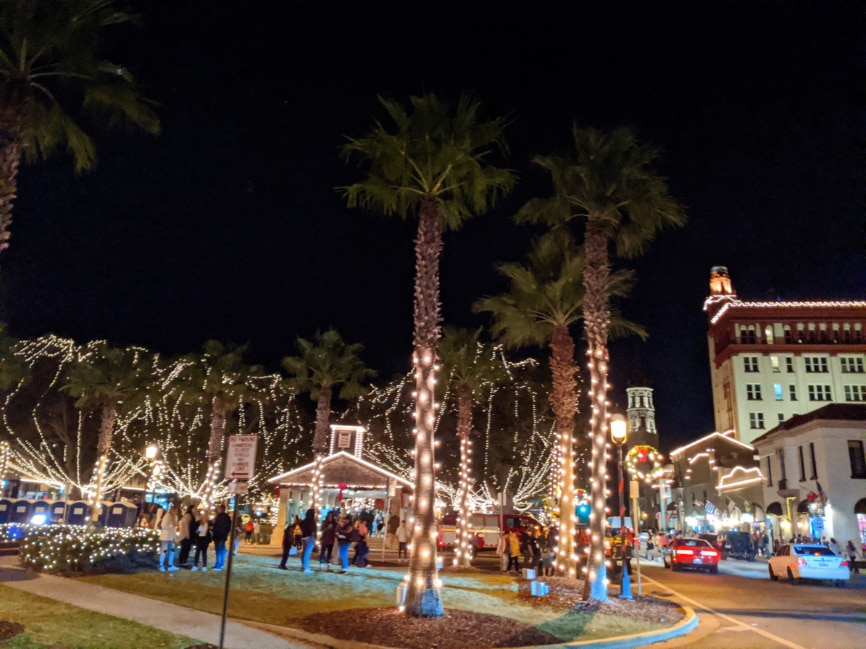 Nights of Lights from the Water
We thoroughly enjoy being on the water and viewing the epic Christmas lights all along St Augustine's waterfront is awesome. We recommend booking a Christmas light cruise in plenty of advance, as it's one of the most popular ways to enjoy Christmas in St Augustine. There are two tours we can suggest: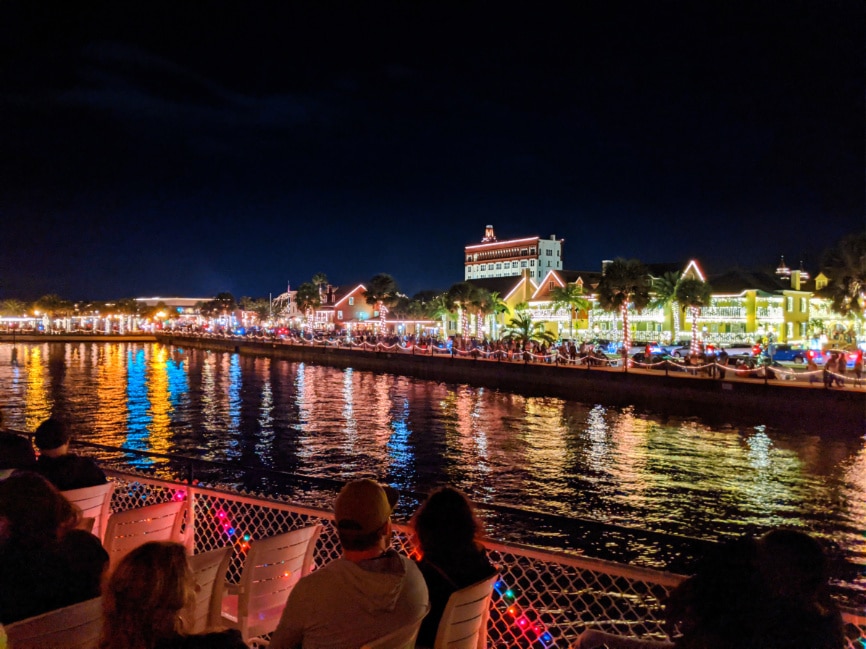 Best ways to visit St Augustine attractions
In larger cities the solution for exploring the best spots is often just getting a hotel in the main tourist area and calling it good. On a trip to Saint Augustine, Florida you could indeed stay directly downtown or you could stay in a more chill area and visit downtown. That's what we recommend, both for the conveniences of being closer to beaches or being closer to the main highway. There are so many wonderful day trips to take, staying outside of downtown is a great idea.
Guided tours of the Ancient City
You can visit all of the best things to do in St Augustine on your own, but we do recommend doing one of the Hop-on-Hop-off tours for the ease and history of it all. They're a great option for getting around seeing more of the town than you thought possible. Without worrying about parking or driving down narrow brick-paved streets, doing a hop-on-hop-off tour will make visiting Saint Augustine attractions easy and flexible so you can enjoy it to the max.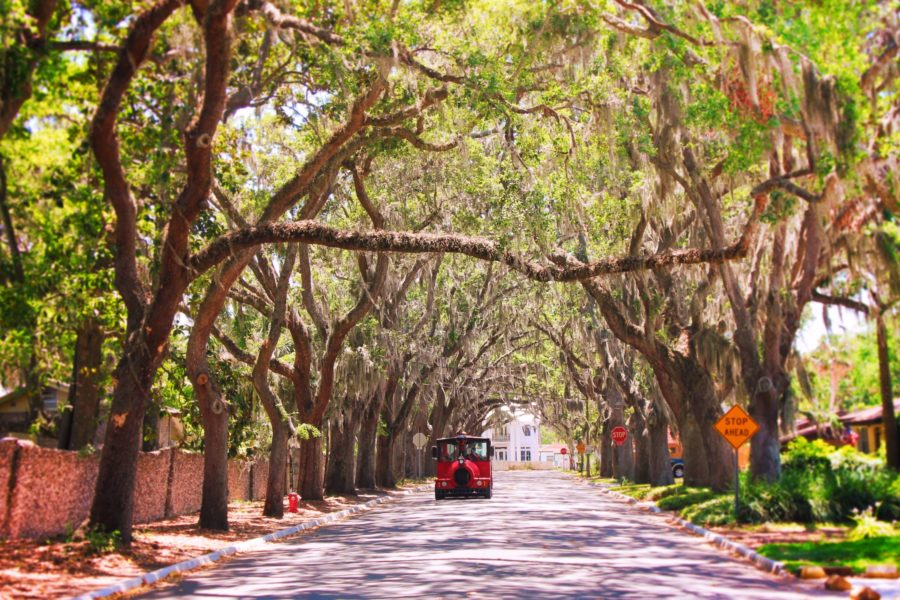 Golf Cart tours of downtown Saint Augustine
I know, this sounds weird, but this was so much fun and such a great way to explore downtown Saint Augustine. The kids particularly loved it. During the busier times, such as Nights of Lights or summer events, leveraging the golf cart options is super smart. And fun. Book a Saint Augustine golf cart tour here!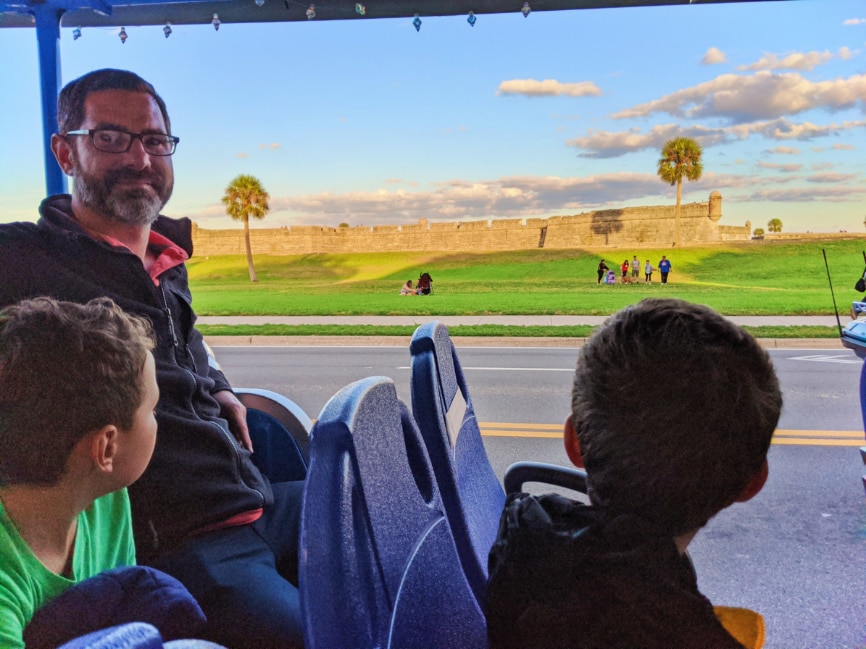 Parking for downtown Saint Augustine sites
Of course you can also explore and enjoy Saint Augustine on your own. There aren't a ton of city-managed parking lots, but for sure there are enough to consider parking downtown convenient. Below you'll find a map of the best parking in Saint Augustine. You should be able to pay using a credit/debit card at any time. Should you be parking after 5pm, most parking is free, so double check any parking signs.

We've spent so much time on Florida's Historic Coast that we love it like our second home. If you have ANY QUESTIONS about anything we covered here or that we skipped over, please leave a comment or send us a note. We're happy to help you plan your Saint Augustine vacation and make it as memorable as possible!